One of the things that's difficult to highlight when you have such a feature rich tool like Curation Suite is showcasing it's true power.
For instance, the Curation Suite Visual Editor is really a powerful parsing machine.
In the most basic terms what it does behind the scenes is scour the content you're curating and help you find prime things (text, videos, social updates, and more) for you to curate.
Here's everything the Curation Suite Visual Editor will discover for  you to curate:
Everything you see on this post below (and more)
All content (text, headlines, lists)
Auto Summarizes the article or story
Finds Meta text and tags (for you to use or add to your post)
All images on a story or piece of content
Videos (YouTube, Vimeo, Faceboo, even 3rd party videos)
Social Updates (Twitter, Facebook, ImgUr, Instagram, Slideshare)
The Visual Editor does all this in a simple to use point and click interface right within  your WordPress dashboard.
We put together this post to highlight all the ways the Curation Suite Visual Editor helps you cite and curate content.
How Do You Load the Visual Editor?

The Curation Suite visual editor is accessed via the Curation Suite sidebar in your standard WordPress post/page editing area.
When you search for content (or use the curation shortcut CurateThis) the Curation Suite Visual Editor will automatically load and start parsing your link or story. Here's where the true power comes into play.
For instance, if you load this post you're reading right now with Curation Suite you'll see it will find all the content, images, lists, social updates, videos, and more shown below.
Does this help reveal the true power of the Visual Editor? Maybe seeing is believing, right?
Here's What the Visual Editor Will Discover
If you load this actual article with Curation Suite you would be able to quickly curate this Tweet from Twitter:
Are You a Platform or Publisher? – https://t.co/YhU6Q1tR8Q

— Curation Suite (@CurationSuite) September 3, 2017
It will also find this Instagram update for you cite or curate:
You'll also be able to one click curate this animated GIF from ImgUr:
Even this Animated GIF from Giphy: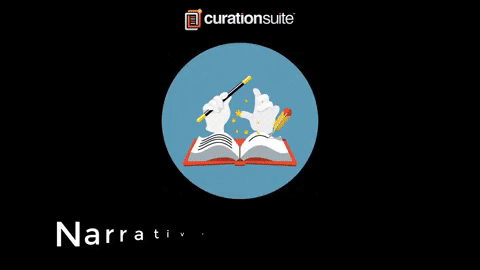 What About Videos?
No problem, the Visual Editor will find videos for you to easily curate and embed on your own content with a simple click.
The Visual Editor will also discover videos like this one from YouTube:
Or this really amazing video from Vimeo:
Or how about this Facebook update and video:
If everything listed above wasn't enough the Visual Editor also breaks down each element and has some advanced features expert curators will love.
Little Known Visual Curation Editor Shortcuts
For instance, here's a video showcasing the easy to overlook power features within your reach with Curation Suite:
It will also find and help you curate list content. For instance, here is a list for finding and curating content with Curation Suite.
Step 1 – Search for Content Using the Search or the Listening Engine
In this step you'll want to use either the Listening Engine or one of the many on demand seaches to find prime content to curate.
Step 2 – Select the Story/Link You want to Curate
Once your search results come back you'll want to pick the first story (or the most interesting story) and click on the curate link. This will load the Visual Editor.
Step 3 – Use the Visual Editor to select Content to Cite
With the Visual Editor now loaded you'll want to select the text, images, or other elements you want to curate. This is easy and simple to do with a few clicks. Once you've selected all you want to cite simply use one of the Add to Post buttons to add the content to your post box.

Step 4 – Add Your Own Commentary
While you could just publish from there the true value of curation is adding your own voice or commentary.
So take a minute and add your own thoughts. Need help on what to say? Check out our Secrets to Mastering Commentary Training.
Step 5 – Click Publish
Once you've added your commentary, selected your category, and maybe added tags simply click publish.
From there share you post on social media or hopefully you've setup automation for this to happen automatically.
The Final Word
I probably could go on for another 1000 words on how easy and simple it is to use the Curation Suite Visual Editor. But I believe actually seeing is believing.
When you have Curation Suite everything that you see on this page is easily curated, cited, and published on your own site or blog. It's all available at your fingertips with a simple and intuitive point and click interface that works right within your WordPress dashboard.