A new Curation Suite update just dropped.
We have quite a few enhancements in this latest release the standout feature is definitely the new Quick Curation Editor— this new update gives you the power to curate and publish the exact content you want easier and quicker than ever before.
See it in action below:
The Quick Curation Editor allows you to create a quick curation/post right within the Listening Engine Reading Page.
Using the Quick Curation Editor
Simply click the 2nd icon on  a piece of content and the Quick Curation Editor will popup.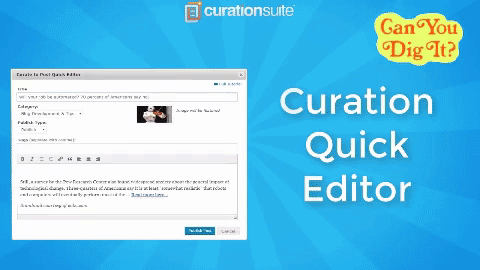 With the Quick Editor you can do everything you would do to create a quick post:
Edit the Headline
Select a Category
Add Tags
Select the publish type
Edit the post text and add your own commentary
Once you've edited everything the way you want it simply click "publish post" and you're post will be published.
That's all there is to it.
We've really striven to make it as easy and intuitive as possible. Below you'll find a full tutorial video that covers some of the options available when using the Quick Editor.
Full Curation Quick Editor Tutorial
To see what else is included in this latest release check out the Curation Suite Changelog.