In the latest release of the Curation Suite Listening Engine we made a few updates to the Curate to Post feature.
The Curate to Post feature allows you to quickly with one click create a post curation that is either in draft form or published right away.
See it in action here:
Here's how this feature works.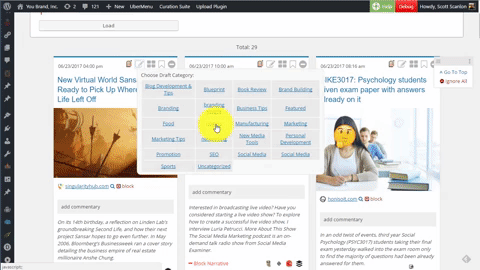 Each piece of content in the Reading Page of the Listening Engine has a curate to post icon (it's the second icon on the top).
Clicking on this icon will display the categories of the site you're on. Simply click on the category you want this curation to be created and depending on your settings a quick curation (or a single source curation) will be created behind the scenes.
What happens after you click on the category you want?
This curation will include the image, the snippet of the story, an attribution link, and the image credit. Of course it's already attached to the category you chose. From there you can go in and add your own commentary or publish right away.
You can set the curate to post to either create a draft post or publish right away. It's that simple with one click of a button.
Overview of Options for Curate to Post
With this new update we refined or added some of the following feature settings:
Draft/Publish/Pending – Choose if you want the quick curate to post to be created as a draft post, published right away, or set as pending for someone like an editor to review.
Set Featured Image – select this if instead of the image being right in your post box you want it to be set to the featured image
Turn Off Block Quote – by default the snippet content is wrapped in block quote. Select this option if you want to turn that off.
Quick Post Link Text – This new feature allows you change your attribution text to something like "Read More…" or "See the full story…" or really anything you want. Before this defaulted to the headline and was sort of redundant for quick curations. If you don't have anything in the Quick Post Link Text the attribution link text will default to the headline of your curation.
Video Content – how video content is handled when using the quick curate to post feature. Your options are: embed video with thumbnail in post box, embed the video with thumbnail featured, just embed the video, or link to video.
Quick Post Category Display – this changes how the quick post icon on each content item is displayed. Choose "On Click" if you want to have to click to show your categories. Choose "on mouse-over" if you want the categories to display when you mouse-over. We've found that if you choose mouse-over just be aware that you'll often accidentally show this feature more than you probably want to but if you like that functionality then definitely set it that way.
That's all for this update. You'll find these new features in the latest version of the Curation Suite plugin & Listening Engine.